Music, cinema and gastronomy. The Nomad Fest brings together nomadic peoples, travelers from near and far, wanderers, refugees…
In both Canada and Mauritania, celebrate with locals while exchanging and sharing knowledge with nomads from around the world.
11th Nomad Fest
Montreal, November 11-13th, 2019
Mauritania, January 25th - February 1st, 2020
Montreal, November 2019

Monday 11th : "The taste of Ojibwe food", an Indigenous dinner by Alan Harrington

Tuesday 12th : "The experiences of homelessness", benefit Mauritanian dinner (with the camelots of L'Itinéraire magazine)

Wednesday 13th : "Stories-Trajectories, Mass migrations", cinema and dinner, by labdoc, Wapikoni and the UQAM's Master's degree in Cinema and moving images

Details : https://www.facebook.com/events/479058959491438/


Mauritania, 25 January - 1 February 2020

Program in progress ...
" The legacy of ancient times… " Al Jazeera
" Everybody's thrilled! " Radio Canada International
" We're sooo there! " Radio France Internationale
" Forget the winter woes! " Le Journal de Montréal
" Montrealers from all over! " ICI Radio-Canada Première
Festival-goers from all over the world !!! Mauritania, Canada, Morocco, Senegal, Mali, Germany, France, Switzerland, Belgium, Japan…
Partners : Islamic Republic of Mauritania / Consulate of Mauritania in Montreal / Embassy of Canada to Morocco and Mauritania / Institut Français de Mauritanie / Royal Air Maroc / Mauritania Equestrian Sport Federation / labdoc / (Institut du patrimoine) UQAM Heritage Institute / Wapikoni / CIBL / CHOQ.ca / Montreal Flamenco Festival / Jean Coutu / Darak / Dar El TiBaa Printing / Tawary / El-Kawthar / Atigh's / member of Tourisme Montréal.
The team: Founder: Atigh (atighs@gmail.com) / Coordinator: Sébastien Nègre (sebastien.negre.sn@gmail.com) / Programming for the "Cinema Under the Tent" evenings: Viva Paci, Alexis Lemieux and Laurence Ly / Thanks to all the volunteers in Montréal and Mauritania...
Ten days of this cultural caravan in the desert, a cavalcade of dromedaries and horses, First Nations artists from Canada in Mauritania for the first time, Mauritanian and Canadian musicians sharing music and rituals ... For the 10th Nomad Fest, Mauritania lived it up for ten unforgettable days!
Between ocean and dunes, dozens of camels and horses paraded around Nouakchott racetrack; an extraordinary show bringing together locals as well as noted personalities. The President of the Mauritania Equestrian Sport Federation, Professor Sid Ahmed Mogueya, paid tribute to nomadic values.
The Nomad Fest also set the stage for a historic evening! First Nations artists from Canada played in Mauritania for the first time. At the French Institute of Mauritania, Laura Niquay shared her vision of the Atikamekw nation in a folk-intimist atmosphere. Martin Akwiranoron Loft artist Kanien'kehá: ka exhibited works that fell between photography and traditional crafts.
Festival-goers discovered several other Canadian artists. Radio-Canada revelation Nomad'Stones blew it wide open with their musical mix and Gotta Lago, festival fave at Les Francos de Montréal, tripped everyone out with their contagious rhythms and energy.
Canadian artists were warmly welcomed by Mauritanian audiences and musicians. Among them: the famous diva Noura Mint Seymali and several traditional nomadic artists, young and old.
Finally, the start of an incredible cultural caravan in the desert! Over ten days, the (truly) Nomad Fest traveled 120 km to the village of Ivijaren. Across the vast sands, Canadian and Mauritanian musicians partook in exchanges with the semi-nomadic inhabitants of the desert. Discussions and concerts in the hollows between dunes will remain etched in our memories…
the Minister of Culture, Crafts and Parliamentary Relations, Government Spokesperson, Mohamed Lemine Ould Cheikh; Minister of Trade, Industry and Tourism, Khadijetou Mbareck Fall; Mayor of Nouakchott, Fatimetou Mint Abdel Malick and many other government figures…
the Chargé d'Affaires for Mauritania with the Canadian Embassy to Morocco and Mauritania, Bill McCrimmon; the Honorary Consul of Canada to Mauritania, Ahmed Salem Kamil; the Ambassador of France to Mauritania, Robert Moulié; the Ambassador of Spain to Mauritania, Jesús Ignacio Santos Aguado; the Benelux Consul in Mauritania, Nabil Hajjar, the President of the Alliance Française de Nouakchott, Ahmed Hamza; the Director of the Alliance Française of Nouakchott, Leïla Al Ardah…
and many other public, private and associative representatives…
It's all about sharing indigenous gastronomy! Alan Harrington cooks an Ojibwa supper with moose and venison stew, using game he himself hunted, accompanied by wild rice. The cornbread was concocted by Martin Akwiranoron Loft artist Kanien'kehá: ka, also exhibiting his works.
An very special guest made an appearance at the Nomad Fest: Jean-Claude Labrecque, a "monument" of cinema according to the Cinémathèque Québécoise. During the "Innu Nomadism" evening, his films Les Montagnais and Le Dernier des Coureurs de Bois were screened, then he answered questions from the audience, an unforgettable participation shortly before his death ... The same evening, Wapikoni presented The Nomads by Kateri Jade Lalo and François Laurent, Ka Kushpian - My Journey by Tshiuetin Vollant and Shipu - Rivière by Uapukun Mestokosho and Shanice Mollen-Picard. Finally, the documentary Paquashipu: La rivière sèche by Arthur Lary was shown by the Department of Art History and Film Studies at the University of Montréal.
The trip continued over several other evenings. Flamenco aficionados vibed with dancer Katherine McLeod, singer Alvaro Echánove and guitarist Quique who took us on Andalusian backroads. Then, for the highlight of the evening, Sophie Lukacs transports us to Mali. Based out of Bamako, the kora player makes the sensitive strings of her mythical instrument resound.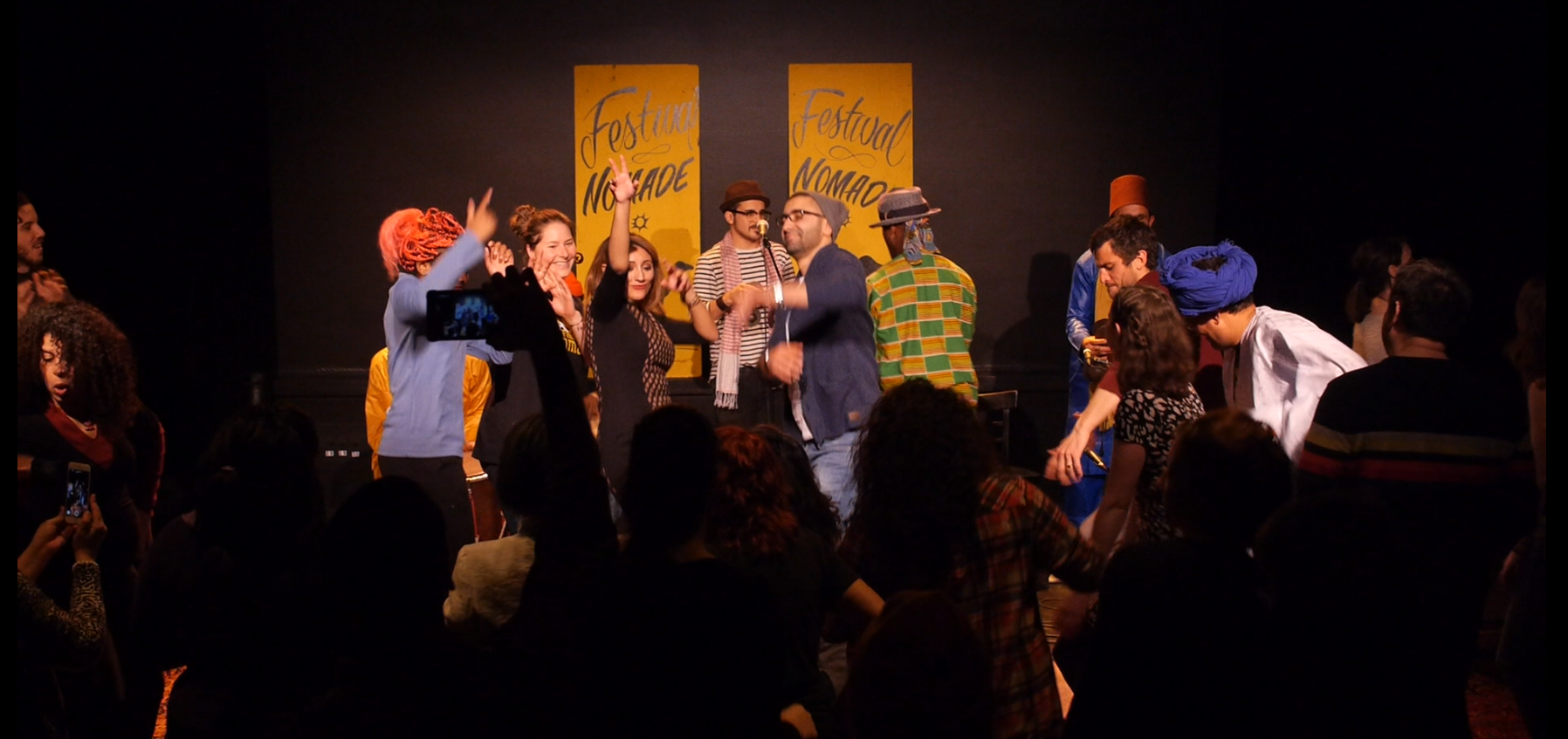 With so many artists from Montréal, alongside Fulani, Inuit, Mandingo, Andalusian and Persian participants, the great Nomad Fest hits a spark like a fireworks display. On the Persian carpets, Nina Segalowitz, Nathalie Cora, Amir Amiri, Aurélie Brunelle, Ilam, the Sultans of percussion (Tacfarinas and Kattam), Nomad Stones, Gotta Lago and many other invited artists lit up the MAI room.
Seasoned in emotion, a dinner show pays homage to "Refugees, forced nomads". At Dépanneur Café, we still remember the poignant testimony of Eva Boucek, returning from refugee camps in Greece and Turkey, the poetic texts of Yves Alavo and Catherine Ego, and the warmth of Nomad'Stones, which made all the festival-goers get up and dance.
The Nomad Fest screened four films on nomadism in Québécois cinema. The opportunity to (re)discover the ways of life of the Inuit, the Innu and other nomads with notably Les Voyageurs by Bernard Gosselin, Debout sur Leur Terre by Maurice Bulbulian as well as Jean-Claude Labrecque's Les Montagnais and Le Dernier des Coureurs de Bois.
For two days, the nomadic souk brought together Montreal artisans with their nomad-inspired creations: Rodrigo Zúñiga, Foehn Kids, Dado Cosmetics, Betino Assa, Vincent Dhavernas, Ariann Langlois, Lorena Tolosa, Say Codelik, Alev (by Hatice), le Dépanneur Café, Isabelle Francœur, Sarrah C, Nathalie Lafleur and Les doigts de la fée.
Stan displays his beautiful watercolours while Marie, Martin, Stephen and Mazen liven up a musical evening full of surprises. Finally, a dinner-meeting brings together Engineers Without Borders Québec and the La Khaïma Foundation to discuss international cooperation and sustainable mobility.
One-of-a-kind link between Quebec and Senegal, Boucar Diouf gets us laughing and thinking, accompanied by the Couscous Comedy Show with UncleFOFI and his band.
Another exceptional moment with the huge Daby Touré! He took the audience for a ride with his globe-trotting melodies... Not to mention Tamar Ilana's flamenco, Stephen Fuller's kora and the rhythms of Essaouira brought to us by Amlil Gnawa. Ilam and Nedjim Bouizzoul from the group Labess also joined us on stage. Warmth and sharing guaranteed!
Nomadic brunches accompany a number of conferences on food sovereignty, sustainable mobility, ancestral knowledge and the thorny issue of mining companies and their relationship with nomads. It's time to listen to the voices of poets and slammers Mel Bué, Charlinio, AbdelSlam, David and Mohamed. Cinema Under the Tent is back with rare film screenings.
In an atmosphere rich in flavour, a dinner show invites us to travel to the sounds of the guitar and the way of Equal Words with Catherine Ego and Arturo Parra.
An intimist gathering. It brought together musicians, music lovers and moviegoers. The tent welcomed us over and over again. This is where we gather together.
The Nomad Fest was a big hit with two free gastronomic evenings! The restaurant La Khaïma opened its doors to all those who wanted to taste traditional Mauritanian cuisine.
The group Ouled L'Bled came from Mauritania just to perform for our audience.
Film buffs found a programme carefully prepared by the Masters in Cinema and Moving Images at UQAM (University of Québec At Montréal). Marianne Chaud's La Nuit Nomade and Grass - A People's Fight for Life by Merian C. Cooper, Marguerite Harrisson and Ernest B. Schoedsack.
Festival-goers also shared the nomadic dinner show 'Nomadic words' with artists Arturo Parra, Catherine Ego and Alessandro Baricco.
Not to mention the return of the famous Couscous Comedy Nomadic Show. Uncle FOFI and many other comedians brought the audience laughter without borders.
Traditional nomadic spirit, Sufi meditation, flamenco, blues, jazz ... The closing party blurred genres thanks to Patricia Pèrez, Kattam, Afrikan Bleues project, Issawa and several other surprise guests.
The Couscous Comedy Show delights festival-goers. Several musicians perform sets while Cinema Under the Tent attracted movie buffs.
Another meeting that stays on people's minds: the panel discussion on food sovereignty organized by the McGill University Anthropology Department.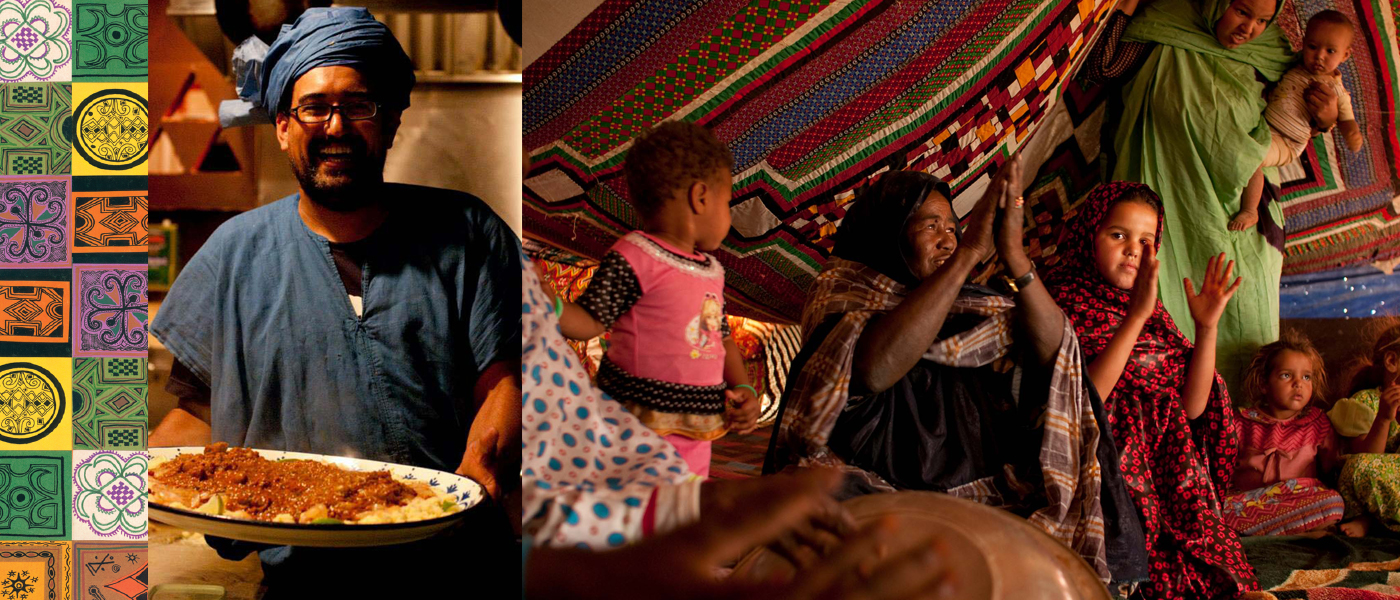 The Nomad Fest pays tribute to an extremely famous festival: the Festival in the desert near Timbuktu. Timbuktu was suffering under jihadist occupation and the Nomad Fest could only be held in solidarity with its sisters and brothers.
In Montreal, festival-goers celebrate life at a colourful musical evening with guests including Aboulaye Koné Bolo Kan, Gotta Lago, Kullak Viger-Rojas, Soley Rara, Amrita Choudhury and Kattam Tam.
In addition to introductory meditation workshops, vernissages, a nomadic conference, a flamenco brunch and a Bedouin brunch, festival-goers feasted on couscous and humour during the Couscous Comedy Nomadic Show where UncleFOFI and his band were having a great time.
On the cinema side, a day brings together film lovers for movies that depict the lives of nomadic peoples.
A substantial number of festival-goers came from Japan to visit the Adrar region and experience nomadic traditions in places like Maddah and Tenemrourt.
The Nomad Fest also supports the Artists' Caravan for Peace and Unity and supports the Al Hawa Association of Mauritania which welcomes caravan participants. Thanks to Brahim Cheik Ahmed, its president, who really took care of business in the Mauritanian Sahara.
In Mauritania, a number of exciting events are coming together. A sizeable camel race is held for women, another for men. Many other activities are done by and with women participants.
The huge Mauritanian artist Malouma, also known for his political struggles, does us the honour of singing under the tent.
With his friends Adam Shamash, Stephen Fuller and Julie Strand Offerdal, Atigh, the Nomad Fest founder, travels through the desert in an old Land Rover G849. He wants to recreate the spirit of adventure found in classic American films. The participants also live nomadic life in a caravan for several weeks. They learn to ride camels and roam the desert in search of pasture for their animals.
The Nomad Fest ends with a flamboyant camel race to which nomads from around the world are invited ... Epic!
The same year, in Montreal, the Nomad Fest holds conferences on nomadism, exhibitions and performances of music, dance and voice. This raises the awareness of an ever-increasing audience to nomadic issues as well as to Mauritanian cultures.
Imagine! A khaïma (tent) set up in the middle of Montreal! Academics and artists gathering to celebrate nomadism: discussion panels, bazaars, music nights, dances, storytelling, spoken voices, musical jam sessions…
As always, the Nomad Fest gladly keeps the tradition of nomadic hospitality going strong. Every evening, the participants and the audience gather for a big collective meal that showcases Mauritanian specialties.
Among the other highlights, Nomade Nation invites artists to reflect on nomadic life and express themselves. An entire intellectual and artistic process ...
Festival-goers can also visit the souk created for the occasion. A trading post, in every sense of the word.
Do you know the word "ravga"? Ravga means "salt caravan". It's the beginning of a great adventure.
The Nomad Fest is setting its khaïma (tent) up again in Mauritania. A ravga takes the participants on camels from the village of Ividjaren to the sebkhas, the salt pans, of Inchiri. Participants exchange fresh produce: Quebec maple syrup for salt offered by residents of Ividjaren.
This epic concludes in the capital, at the French Institute of Nouakchott, with an exhibition and dancing to welcome the caravan, taste traditional dishes from Quebec, listen to stories and ride camels. Present are Catherine Ego, Sylvie Poulin, Yannick Labine and Danielle Dumont.
2010 is a historic year, because, for the first time, the Nomad Fest is organizing festivities in Montreal and pitching its khaïma. On the menu for this great premiere: film screenings, concerts, meditation evenings, culinary events, outdoor storytelling and debates in collaboration with McGill University's Anthropology Department.
Mauritanian griot Jemal Ould Abba, who came expressly from Mauritania for the Nomad Fest, seduces the audience with his songs evoking life in the desert.
As a social actor, the Nomad Fest devotes one day to nomadic women and another to refugees and migrants.
Since it was first held, the heart and spirit of the Nomad Fest have been full of joy to be alive.
In Mauritania, an exceptional nomadic gathering is born. Nomads flock from all over the country to celebrate the dynamism of their culture: traditional games, music, dance and percussion competitions ... There is even a competition to choose the most beautiful tent.
The colossal Mauritanian artist Malouma, also known for his political struggles, does us the honour of singing under the tent.
Not to mention a camel race that brings together several hundred participants! Unforgettable!
This event, whose outreach exceeds all expectations, is organized in collaboration with the Ministry of Commerce, Crafts and Tourism and the Ministry of Culture, Youth and Sports of Mauritania, Tingadesh City Hall and elected officials and all communities in the Wilaya (region) of Trarza.
Humankind has always been nomadic. Over the centuries he has settled down, behind borders both real and symbolic.
Founded by Atigh in 2009, the Nomad Fest is inspired by the nomadic lifestyle and sense of sharing...